From Where God Sits Book Information
"From Where God Sits" is a book to help you gain God's perspective as you travel the journey called life.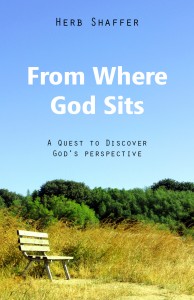 Written by Pastor Herb Shaffer, "From Where God Sits" provides Bible stories in contemporary language and stories from Herb's life that help us understand God's take on life and relationships. You will laugh, maybe cry, but for sure you will see God and life more clearly.
For information on receiving a copy, contact Pastor Herb at herbshaffer@gmail.com.  It is also available on Kindle,
First time visitors to New Song can receive a free copy. Just tell a greeter that you saw this offer on the New Song website.