Celebrating New Life in Christ
With prayer, praise, and an all-church picnic, New Song Community Church celebrated the baptism of nine people in an outdoor ceremony on June 25, 2023.
Officiated by Pastor Herb Shaffer, the baptisms signified the people's commitment to following Jesus, to being made into a new creation in His image, and to being continually made newer over time by choosing to follow Him daily.
The full-water immersions were held in a baptismal tub placed on a sidewalk overlooking the church.
Before their baptism, the people shared testimonies of what drew them to Jesus and how God is at work in their lives, in ways big and small.
Congratulations to Melissa Mozurak, Jean Ann Wolney, Luke Fitzgerald, John Pasquarelli, Val Pfabe, Michael Scott, Alexander Wright, Bill Wright, and Nina Wiebalk!
Among their testimonies:
Being reared in a household where God was a part of life from the very beginning
Overcoming drug addiction and rediscovering a sense of purpose in life
Encountering the presence of God supernaturally
Feeling a sense of family and community within the New Song church body
Receiving God's presence and preparation for the unexpected death of a loved one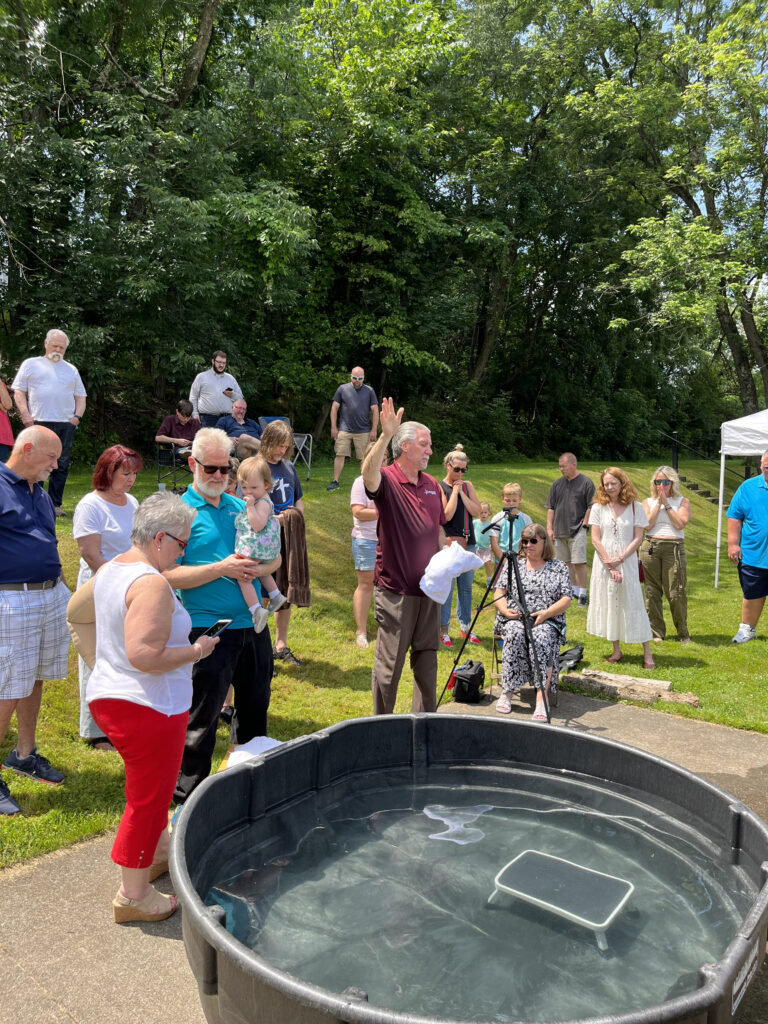 Following the baptisms, New Song held an all-church potluck picnic.
Church members gathered for fellowship over a smorgasbord of foods. Homemade chili, shredded pork, kielbasa, burgers and hotdogs, vegetable trays and salads, a bounty of cookies, cakes, and pies, and more were on the menu.
The baptism day was a day of changed lives and joyful praise of God.
Lives were changed because the newly baptized made a declaration that they were following Jesus.